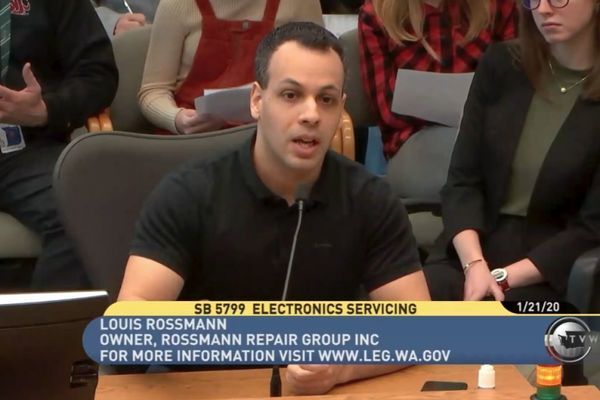 Political advocacy doesn't generally involve Cameo, the platform where celebrities offer video notes to willing-to-pay fans.
But Louis Rossmann has proven himself willing to take experimental roads to get his right-to-repair message heard far and wide. Rossmann, a business owner who specializes in board-level repair of laptops, reached out to Apple co-founder Steve Wozniak through the platform, and got an extremely passionate message out of a platform that generally isn't known for anything of the sort:
Rossmann knows the power of the public voice in moving the needle—and his investment in Wozniak's Cameo appearance was well-considered, as it hit the international press and is likely the most high-profile individual Cameo video ever filmed.
Rossmann himself has 1.6 million subscribers to his popular YouTube channel, and has taken part in numerous public hearings on right to repair over the last year and a half. He has raised hundreds of thousands of dollars for right-to-repair legislation, and he hopes to raise even more.
Fans that might have been drawn to Rossmann by his admittedly snarky point of view (he talks a lot about politics on his channel from the position of a business owner) and technical chops have found him to be a passionate vessel for a discussion that hasn't always had very powerful champion. And his efforts have, at times, put him at legal risk—only reinforcing why his work exists in the first place.
Media outlets are noticing this. Just this week Rossmann was the face of a Wall Street Journal article, helmed by the excellent Joanna Stern, on the challenges that consumers and repair shops face when dealing with MacBook repairs. And his media appearances have been increasing.
What's great about Rossmann is that he seemingly doesn't fit the profile of someone who might be a passionate front-facing advocate—in a recent video, he admitted the strain of meeting lots of people at a conference, as he's actually an introvert—but his mixture of personality and technical skill have actually made him quite effective at the job. He knows how to speak up, and he knows a ton about his subject matter area.
(He's not the only person out there, by the way: Nathan Proctor of the U.S. Public Interest Research Group has been doing tons of great work on the advocacy front as well, just as one example.)
And at a time like this, when right-to-repair legislation is finally being taken seriously by state and national political bodies, having someone who can both properly explain the issues and do so in an engaging way is really important.
The battle over right to repair is one that involves a competition between massive, trillion-dollar companies, and those that don't have anywhere close to that, because they're approaching the problem from the grass roots. So when a movement has a passionate figure that is willing to step up and tell a broad audience what's what, it needs to latch onto that.
Any good movement needs a voice. Louis Rossmann is a pretty great one for right to repair.
Time limit given ⏲: 30 minutes
Time left on clock ⏲: 1 minute, 18 seconds