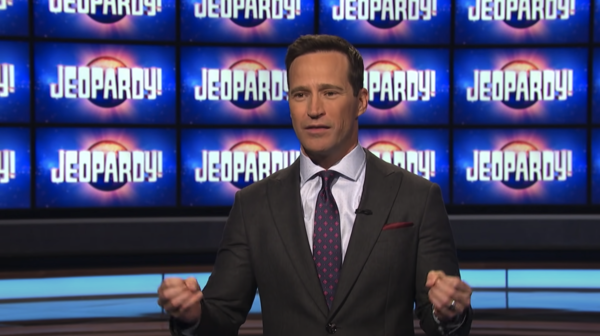 If you don't want people to question your rise to a certain position, perhaps don't make it a high-profile public competition.
The last couple of weeks have been pretty brutal for fans of Jeopardy! who have been gunning for a host with the gravitas of the late Alex Trebek. 
The months-long competition to replace Trebek brought in some of the most concentrated star power syndicated television has seen in years. And while there was no need for Trebek's replacement to be a celebrity—after all, Trebek wasn't one before he took the role—the fact that so many high-profile figures wanted the role clearly suggested that the producers needed to select their replacement carefully. 
Given all that, to a casual observer, Mike Richards wasn't it—but he was in a position where he could stack the deck.
As extensively reported by The Ringer's Claire McNear, perhaps the closest thing we have to a journalist on the Jeopardy! beat we have, Richards' past in game shows has been highly controversial, with his roles show-running The Price is Right and Let's Make a Deal raising concerns about his quality as a leader. But on top of that, he did a podcast while on those shows where he seemed to say a bunch of stupid crap as if nobody was listening.
Richards, clearly approaching the issue like someone with nothing to hide, removed the entire podcast from the internet and immediately apologized, which was the angle that most stories re-reporting McNear's story took. But honestly, the angle that bothers me as a casual Jeopardy! fan is the lack of respect he showed to the hosts who very publicly tried out for this job and were considered fan favorites. Here's McNear:
Some viewers have called into question the treatment of two of last season's most popular guest hosts, LeVar Burton and Ken Jennings. In Burton's case, fans have complained that the Reading Rainbow star was given just a week's worth of episodes—filmed in the space of a single tape day—compared to the two weeks afforded to most of the other candidates. Burton's supporters have also pointed out that his episodes aired in the midst of the Summer Olympics, which caused some to be preempted on NBC affiliate stations and may have contributed to lackluster ratings. Through a representative, Burton declined to comment.
Burton had to put on a months-long public campaign, complete with New York Times profiles, for producers to even put him on the show, and they gave him the worst slot available, which likely affected his on-camera and on-broadcast performance.
Richards, meanwhile, got his hosting slot by simply leveraging Jennings' availability in a way that favored him. Which is honestly the whole reason the decision to make him a host stinks.
(For his part, Jennings, who retains a consulting role with the show, was quoted in The New York Times as being supportive of Richards.)
While actress Mayim Bialik, who will take on prime-time specials, has her problems as a host (someone who has spoken out against vaccines in a published book is not a great choice at this time, no matter how much clarification she has offered), most people would likely have given her a chance as the daytime host because she did a good job in her tryout.
But the selection of Richards reflects a lack of understanding by the people who make Jeopardy! about why people care enough about this show that The Ringer effectively has a Jeopardy! beat. Trebek earned audience trust over three decades of hosting by showing that he took that role seriously.
Jeopardy! is a quiz show that works because of the integrity of its competition. That the competition for its own host can seem so transparently biased throws the reputation of the entire franchise in … well, you know.
Time limit given ⏲: 30 minutes
Time left on clock ⏲: 26 seconds