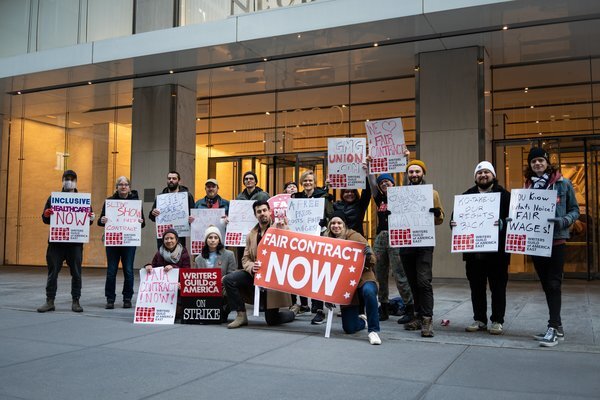 Perhaps it was inevitable to see G/O Media—a media company that has proven itself the most employee-hostile large publisher on the internet in the years since its acquisition by Great Hill Partners—would become the first prominent publisher to see a labor stoppage in the internet era.
After all, the ethos of the existing staff has very much been in the spirit of Gawker Media's original owner, Nick Denton, and the culture that company built.
But it's just really hard to watch good journalists have to suffer through bad leadership for so long. It is clear that G/O's leadership would love nothing more than to cull the journalists from the sites it purchased three years ago, hire new staffs on non-union contracts (and at miserably low pay, especially considering where they're physically required to work) and just work like an embarrassing throwback to bad media jobs circa 2007.
And that's proven by the fact that Deadspin, one of the original Gawker Media sites, but one that had seen its original staff desert the platform in protest of management, is still publishing at a time most other G/O Media sites are not. Jim Spanfeller, the CEO of this company, appears to have just wanted the shells of these sites—with no care about the people who worked on them.
https://twitter.com/kady_ruth/status/1499063004448579584
Spanfeller was working on internet media outlets in the '90s, and his old-school approach shows in the worst way possible here.
(He doesn't appear to care about the content his employees create either, given that the websites they run just randomly removed two-plus decades of images out of nowhere last fall. Way to stand behind the hard work of your journalists, pal.)
So, with that in mind, seeing this labor conflict turn into a legitimate strike is an important turn of events in an era of digital media where the publishers have not done enough to stand up for the actual work being done, where high-level strategic approaches to squeeze a few more dollars out of the digital advertising lemon seem to be more important than ensuring that the media property is properly serving both its audience and its team of creators.
It was a real tragedy when Gawker shut down—and it's still playing out, thanks to Spanfeller and Great Hill. Gawker, of course, was not sold to G/O Media, but did eventually find a home with BDG Media, the home of Bustle and a number of other digital media sites. And to BDG Media's credit, they actually seem to be doing a good job with the relaunch, as well as with continuing to build the ethos of the brand it started with.
I hope, if Spanfeller and company don't give this team what they want, these employees consider new opportunities in the digital ecosystem. Because, as Deadspin's move to Defector has proven, it's the talent that holds the power right now, and when they use that power, the effect is more dramatic and impactful than any desperation-tinged old-school revenue building strategy that bad media sites can throw at the internet.
In a lot of ways, I don't care about brands like Kotaku and Lifehacker and Gizmodo. I care about the people who build those sites more. And management that puts the brands above all else will find itself with vastly reduced properties in the end.
Stay strong, GMG Union.
Time limit given ⏲: 30 minutes
Time left on clock ⏲: 1 minute, 10 seconds