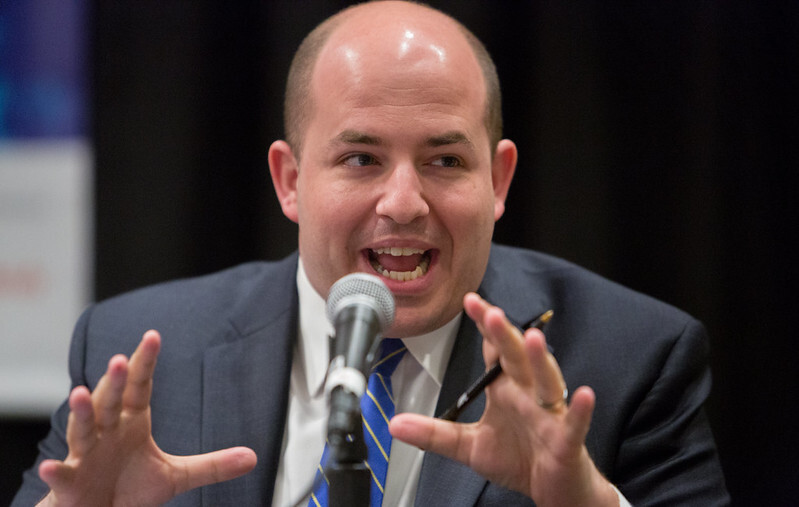 Brian Stelter is perhaps one of the most important journalistic voices of the last 30 years. Unfortunately, he's for too long been made a target because of the defenses he put up for journalists correctly using their role to speak truth to power.
Stelter, as an expert on the news industry who beefed up his bonafides as a reporter through two important venues—by launching TVNewser, which is now operated by AdWeek; and as a hotshot media reporter at The New York Times—had an important perspective on where the news industry was going from both a business angle and in terms of the coverage that it did. Which made him the perfect host of Reliable Sources, a news program where Stelter's capabilities proved essential to understanding the media as a whole.
(Fun fact: The original host of the program, Bernard Kalb, started hosting the show at the age of 71, and despite the launch date happening 29 years ago, Kalb is still kicking at 100 years old. He managed to outlive Reliable Sources, somehow.)
In some ways, Stelter was always a great, important reporter. But his outlet arguably put him in an awkward position numerous times over. Before joining CNN, he was very much a reporter's reporter, someone who arguably looked like they were on their way to becoming the next David Carr. And he did so well before many of his peers. He was 21 years old when he was hired at the Times, and 28 when he took his role with CNN.
But I think in many ways, having the role that he did at CNN made him a direct target of the very things he used his position to fight against: Misinformation, the echo chamber, and meddling in the news.
Trump was a constant bully of Stelter in particular—using his Twitter platform to take aim at Stelter in particular, among many other perceived enemies. Stelter famously returned the favor by turning off phone notifications related to Trump's tweets, live on air, after the former president lost his election. (I'm presuming he eventually turned it back on; something about a raid at the Capitol.)
The Trump attacks put Stelter, unfairly, in overexposed territory, something proven by the many replies that he gets from people who don't understand his role but do understand that their team doesn't like the guy. He's overexposed because he did his job correctly and the target of his correct job-doing didn't like that.
https://twitter.com/jeffjarvis/status/1561369167806226433
If I was Stelter, I'd take six months off, at least until after the midterms, reboot, recharge. Then, when the moment hits in early 2023, come back with a new project—whether it's a new startup or a new broadcaster that clearly sees your value in ways that others may not. (I hear Rachel Maddow is cutting back her schedule; maybe MSNBC could use your services?)
But in a lot of ways, I wonder if Stelter might want to get back into print, to take a fresh stab at the amazing work he was doing at the Times, with the benefit of an additional decade of knowledge of the media beat. With the also-excellent Margaret Sullivan leaving her role at The Washington Post (for academia, in her case), we have no journalists truly covering this immensely powerful beat in the way Stelter does. We need him back in the game, without the blinding studio lights of CNN.
All of that is impressive given how far he's gotten. The thing is, most people in Stelter's role don't accomplish what he has in their entire career; Stelter is only 36 and has been at it for nearly 20 years. He's five years younger than me and has seen many more heights than I probably ever will in my own career in journalism. He has earned the David Carr perch, if he wants it.
To put it all another way, we need more Stelter … and maybe he can be a stronger Brian Stelter outside of the confines of a shifting CNN.
Time limit given ⏲: 30 minutes
Time left on clock ⏲: 28 seconds