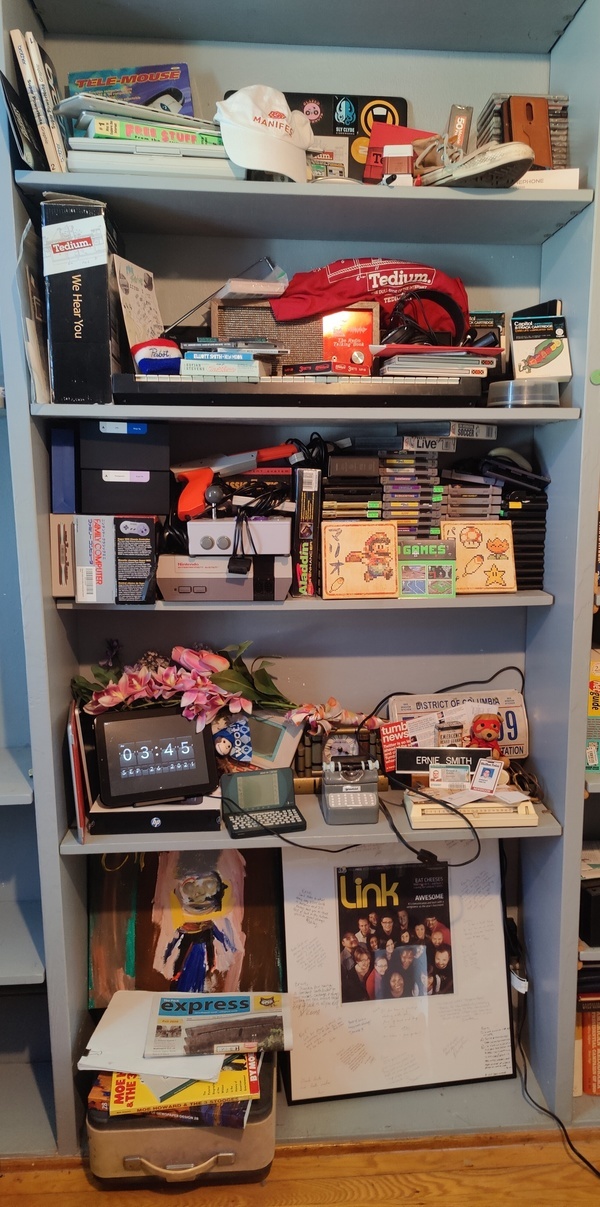 When it comes to writing, it always helps to have something that can briefly pull your attention for a second, threatening to pull you from your full focus for a while.
And I decided to do just that with my pile of stuff. Basically, my disorganized files and objects have been staring me in the face for ages, but rather than letting the pile intimidate me like it usually does, I basically turned my junk into a gigantic moodboard, which I then put in place on these shelves in a very creative way.
I did this for a couple of reasons: One, I felt like I needed something I could look at that could offer a creative spark; and two, I wanted a reminder of the positive things I had accomplished in my life, as a reminder when I feel discouraged.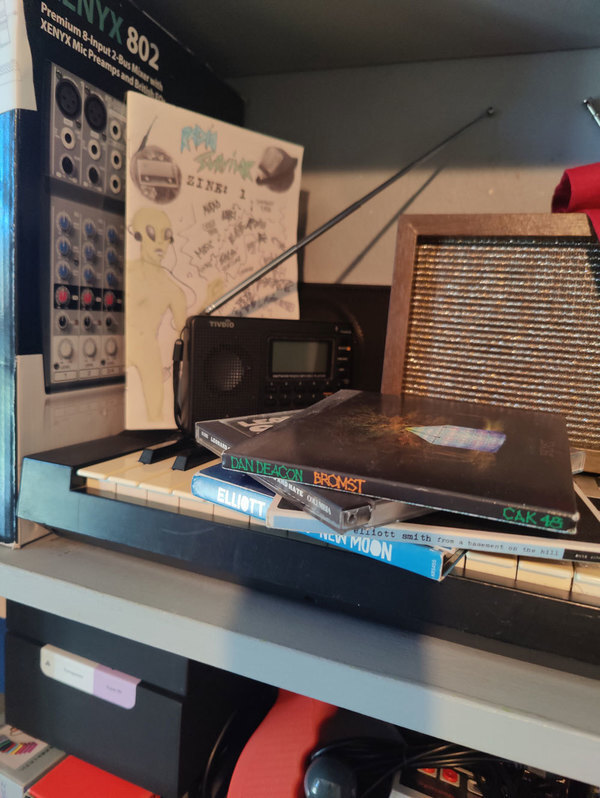 Here are just 10 of the things in the pile:
A Hewlett-Packard TouchPad, the subject of a 2020 piece about its awkward history as a consumer product caught in the middle at a company that was being pulled in two directions. Sitting on its wireless-charging stand, it is now my clock.
ID cards from nearly every one of my employers; for employers for which I did not get a branded ID card, a business card is used to represent them instead. My current employer, Manifest, is also represented on the top shelf in baseball cap form.
A decent-sized video game collection, focused mostly on games that I have an affinity for rather than popularity. That means games like Willow, Legend of the Mystical Ninja, and ActRaiser make the cut over more faddish games. Also part of the collection is a hand-built controller that was designed by Benj Edwards to be used on Super Nintendo games, as well as a few unlicensed games from makers like Tengen, Camerica, and Wisdom Tree.
A Casiotone MT-400V, a keyboard that I bought essentially because I enjoyed how Dan Deacon used that exact keyboard to great effect when recording his 2007 album Spiderman of the Rings. A copy of his 2009 album Bromst, along with a few other records important to me as an individual, are sitting on top of the keyboard.
A single light-orange Chuck Taylor shoe, which I wore on my wedding day, because I tend to wear Chucks a lot.
A copy of a fan-produced edition of Express, the newspaper where I used to work but which shut down in 2019. Directly below the copy of the knockoff Express is a copy of the Express style guide.
A painting from Linder Lue Lawrence, a locally famous artist in the Norfolk, Virginia area who goes by the name of Hollywood. The painting is based on a cover of my old Norfolk-area newspaper, The Virginian-Pilot's Link. Directly next to it is a framed image of myself and my coworkers, who were laid off at the same time as me in 2008.
A Tedium T-shirt. (I have a few extras in red and gray; please reach out if you would want one. Since they are a few years old, I will gladly offer them for a discount.)
The sticker-laden top half of my old laptop case, which features a number of breweries and coffee shops I had checked out while I used that laptop.
The Brother GeoBook, a laptop produced by the printer company that was driven by GeoWorks, the operating system I am a huge fan of.
And there's a lot more too. I highly recommend that if you're trying to give yourself a spark during a pandemic, you consider organizing your old junk like this. Because you never know when it's going to inspire a new idea, and you might need the inspiration.
Time limit given ⏲: 30 minutes
Time left on clock ⏲: 2 seconds (whew!)